England Touch Rugby International Training Sqaud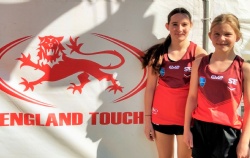 Two Ricards Lodge High School students have been selected for the England Touch Rugby International Squad. Alix, Year 10 and Bea, Year 9 have both been called to train with the England Squad for 2023!
They will be taking part in a number of training weekends across the country. Both students also play contact rugby with the Old Ruts Rugby Club, however the training and skill development with the England Squad will be massively valuable for their 7s rugby and 15s seasons as well.
The PE Team and School are incredibly proud of them.