Our Faith, Our Belief: the second inter-faith dialogue session for Year 12 students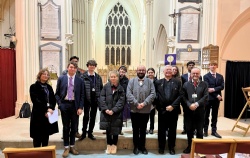 The second inter-faith dialogue session of the "Our Faith, Our Belief" project took place at the Mitcham Parish Church and involved representatives from Ricards Lodge High School, Rutlish School, Wimbledon College, Ursuline High School and St Mark's Academy.
We were warmly welcomed by Father David Pennells who very kindly offered us a guided tour and joined us to share his background in faith and belief.
Sixth form students had the opportunity to connect with peers of different faiths and beliefs in an interfaith setting, to get to know each other better in the context of religious and non-religious background and to exchange personal experiences and views based on their respective religious and non-religious traditions.
The project is jointly organised and supported by the Standing Advisory Council for Religious Education for the London Borough of Merton and the University of Roehampton.