Year 7 & 8 Borough Football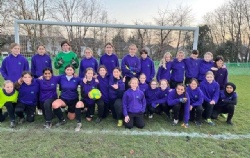 Ricards Lodge Years 7 and 8 football teams recently took part in a borough football tournament at Ursuline High School.
Here is a write-up from Isla in Year 8;
I was fortunate enough to be able to attend the Year 7/8 Borough Football Championships a few weeks ago. Ricards Lodge brought 4 teams: A=Year 8, B=Year 7 & 8, C=Year 8 and D=Year 7. All the teams there were separated into 2 separate pools; Ricards A and C in Pool 1 and Ricards B and D in the other. Ricards A had a great start to the tournament by winning all of their matches making them top of Pool A and Ricards B winning all their matches and drawing one, making them top of Pool B.
After both coming top of our groups, Ricards A and B played each other in the final for 1st and 2nd place whilst Ricards C played for 5th and 6th against Ricards D. Ricards Lodge ended up coming away from the tournament with 2 medals, Ricards A with Gold and Ricards B with Silver.
Well Done everyone. A special mention to Maggie and Grace for playing with the Year 8's and being part of getting us 2nd place. But as always we couldn't have gone to the tournament without our amazing PE department. Thank you so much Mr Wing and Miss Gillespie!
- Isla, Year 8