A Dose of Design Inspiration for Ricards Lodge High School Students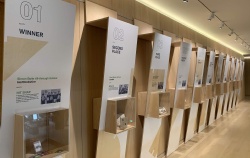 A talented group of Year 9 students from Ricards Lodge High School recently visited the Design Museum. The students were the internal winners of the Design Ventura competition in their classes and the trip was organised to investigate the typical users of the museum and the products sold in the shop.
The students spent the day exploring the museum and observing the visitors, as well as examining the products available in the museum shop. The aim of the trip was to provide the students with an insight into the design industry and to inspire them to pursue careers in this field.
The Design Museum is dedicated to promoting and celebrating design in all its forms. With a diverse range of exhibitions, the museum provides a platform for designers to showcase their work and inspire others. The museum shop offers a range of products designed by local and international designers, providing a unique opportunity for visitors to purchase pieces from the museum's exhibitions.
The students were highly impressed by the visit and found it to be a valuable experience. They were able to gain an understanding of the design industry and the different careers available within it. The trip was a great opportunity for the students to learn about design and to be inspired by the work of designers from around the world.