GCSE Art Textiles Visit to Kew Gardens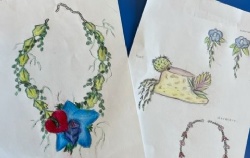 On Tuesday the 1st of February we took Year 10 and Year 11 GCSE Art Textiles on a trip to the Royal Botanic Gardens at Kew. Both groups of students were independently gathering research for upcoming exam and coursework projects.
To start the visit we ventured to the Orchids of Cameroon exhibit which was presented across ten unique climatic zones within the Princess of Wales Conservatory. The students engaged in various drawing and photography activities, focusing on capturing natural structures, intricate details and vivid blends of colour presented within the plant exhibits and gardens. Many public visitors to Kew were widely intrigued to know what the Ricards students were so absorbed in and many observed the still life studies they were creating. I was able to visit Kew gardens earlier in the month to complete some planning towards the visit.
I was personally inspired by the seeds of the Entada gigas plant, named 'the heart of the sea.' The seeds, hollow inside, allowed for travel across oceans and the heart-shaped appearance meant they have been used in pendants and necklaces around the globe. The textiles students were encouraged to explore the tropical temperate houses at Kew with the brief to create a piece of jewellery or wearable accessory inspired by the flora. They sketched, wrote notes and discussed the diverse range of botanics. It was a brilliant day to see how well they engaged with the tasks and how they enjoyed the opportunity to sit and draw - even finishing their lunch early to continue their studies!
Towards the end of the trip students had the opportunity to have some free time to explore part of the 300 acres of gardens. They were able to enjoy the heights of the tree top walks, viewing wildlife as well as the fresh February air before coming down to discuss their research findings. Over the next coming weeks the Year 10 and 11 students will be using their sketches and photographs to develop their initial ideas for their 'Natural surfaces' and 'Lock' exam units.
Miss Hindmoor, Art