Culture and Heritage Celebrations at RLHS 2023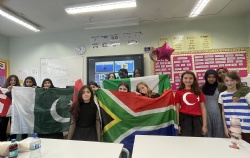 During the last week of the spring term, we were delighted to celebrate our students' culture and heritage through a wide range of activities and events.
The Year 10 Cultural Ambassadors created and presented an assembly on the United Nations World Heritage Day, which takes place on April 18th. The group discussed what we mean by culture and heritage and raised awareness that many people in our school community have mixed heritage.
Students were taught the difference between cultural appreciation vs cultural appropriation. Other activities included creating a 'This is me' box, archaeology, dance, LGBTQ+, philosophy and sharing your bi/ multilingual skills clubs.
Friday was our themed mufti day raising funds for the Syria/Turkey Earthquake appeal. Despite the rain, it was wonderful to see so many students embrace the theme with smiles, laughter and pride throughout the day.
KS3 students discussed outfits, viewed boxes and watched a film created by our students to celebrate culture and heritage in their extended tutor time. KS4 students also had the opportunity to parade their outfits and speak to their year group during their assemblies.