Celebrating our Sensory Room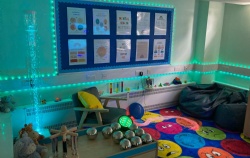 Over in the learning support department, we are celebrating the first year anniversary of our sensory room! With the help of Sheila Coates Foundation's generous grant, our team successfully converted an ordinary classroom into a sensory space loved by students and staff alike.
The sensory room is used by staff with students for a myriad of wonderful activities such as mentoring sessions, social skills groups, 1:1 and small group teaching, and homework club. Most importantly, the sensory room provides a safe, comfortable and calm environment for our pupils to step into as they need it. Our students love to sit on bean bags and the rocking chair, watch the kaleidoscope of lights and colours, and play with various sensory toys.
The sensory room has brought about a significant improvement in the physical, mental, and emotional wellbeing of students with and without special educational needs. It has even helped foster new friendships and strengthen staff-student relationships!
Don't take our word for it, though. Here's what three of our pupils had to say about it:
"When I'm in here, I feel calm and relaxed." - Year 8 student
"I got distracted by everything in here and forgot about all of my stress." - Year 11 student
"This is the most relaxed I've felt in my whole life!" - Year 11 student
Curious to see what the sensory room looks like? Check out the pictures below!