Royal Holloway hosts aspiring students for a taste of university life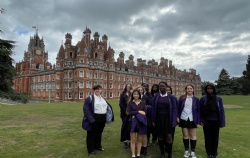 Ten Year 11 students, as part of the Aspiration Project, visited Royal Holloway University in Egham for a day to explore the campus.
Our trip started at King's College Wimbledon, where we boarded a coach with students from other local schools. After an hour-long journey, we arrived at the lush green Royal Holloway campus during Freshers' Week. In a lecture theatre, we were welcomed by university representatives who explained the history of the first female college in London. A student ambassador then took us on a tour of the campus, which included both historical and modern buildings, such as the chapel, art gallery, halls, and student services. We had lunch in a restaurant-style canteen, where we experienced student life first-hand.
The geography taster lecture was on the topic of volcanic activity on Tenerife. It was a very interactive hour, and students then learned what to look for when planning a holiday on a volcanic island. In the final part of our visit, our students had a Q&A session with a panel of university students. We could ask them any question we liked about university life, student loans, courses, and societies.
Just as we were about to leave, it started to rain torrentially. We had to walk across the campus to the car park, which made for an unforgettable end to our visit.
"The Geography lecture was fun." - Alix Year 11:
"The schedule of study is very different to what we are used to." Eun-Serh Year 11:
"It was a real eye-opening experience." - Dhavianna Year 11:
Ms J Zenatova