Margate 2017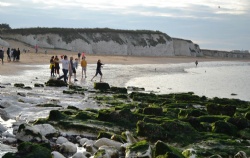 In late September a band of intrepid Year 12 and 13 Art and Photography students went for a weekend in the sunny seaside town of Margate.
Margate was one of the first British seaside resorts and has played host to a number of key figures from the world of Art and Literature. JMW Turner created over 100 paintings looking out at the sea and sky from Margate. He believed the skies of Thanet to be the best in all of Europe. In more recent times Tracey Emin spent her formative years in Margate and has since returned to pay tribute with her neon light work 'I Never Stopped Loving you' on the sea front.
Margate is home to an excellent gallery, The Turner Contemporary. Our students had a tour of the current exhibition and were particularly taken with the work of Michael Armitage, a Kenyan born artist who takes inspiration from European art history and creates beautiful and colourful paintings that carry dark narratives derived from the African media. It was also interesting to watch Anthony Gormley's barnacle encrusted figure on the beach disappearing beneath the incoming tide.
The sun shone throughout our weekend and students were able to take full advantage of the varied sights of Margate; they photographed the old town with its vintage shops and cafes, the seafront amusement arcades and the traditional theme park, Dreamland, the chalk cliffs, rock pools, boats against the harbour arm and the mysterious shell grotto. The students were a credit to the school and excellent travelling companions and Carol, our lovely host at the Nayland Rock Hotel has invited us back again next year.
Mr Rainsford
A selection of photos are available in the gallery.