Digital Leaders recognised for Online Safety achievment.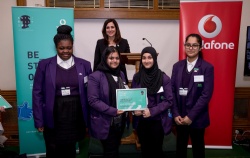 On Tuesday the 10th October Digital Leaders from Ricards Lodge were invited to a Parliamentary Showcase event at the Churchill Rooms in the Palace of Westminster.
The students were invited to recognise the work of the most active and engaged schools who have taken part in the Be Strong Online Ambassadors programme over the last year.
The Be Strong Online programme is a series of peer led activities that were delivered to year 7 students during tutor time. Modules delivered included; Digital detox, Selfies & self esteem and Digital footprint.
The students led an interactive drop-in session over a canapé lunch, followed by a certificate presentation to recognise the Be Strong Online Ambassadors involved in the programme. They then listened to short speeches from The Diana Award, Vodafone and Baroness Joanna Shields who has recently been appointed as the Prime Minister's Special Representative on Internet Safety.
The Showcase was a great opportunity to share their experiences with other schools and interested parties, including MPs. It was also an opportunity to meet other schools from across the country and discuss the impact that peer-led programmes can have on young people.
Ricards Lodge were one of four schools selected nationally to take part in the Showcase. After the event the team had the opportunity to have a short tour of the Houses of Parliament.
Additional photos are available in the gallery.