U14's Football team start with a win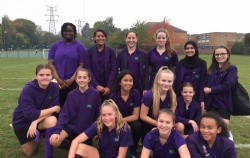 A squad of 14 travelled to Fullbrook on Wednesday 18th October to play against Fullbrook School in the first round of the U14 Surrey Cup. The girls represented Ricards Lodge extremely well and our overall team effort was fantastic.
Match Report
Ricards Lodge 4
Fullbrook 1
We started the game strongly with a goal in the first half, coming from Annabel travelling up the field, switching the play and a lovely finish from Ciara. Our whole team performance resulted in a 1-0 score at half time.
Although Fullbrook scored a goal in the early stages of the second half, the girls stepped it up a gear and scored 3 goals in reply. The defence stayed strong throughout the whole game, and with our midfield winning their battle this allowed the forwards to enjoy running off the ball and towards the goal, creating more chances.
This was a very exciting performance and a well deserved victory. Well done ladies.
Miss Gillespie
Goals scored
Ciara 2, Cerys 1, Lulu 1