Jack Petchey Merton Awards Ceremony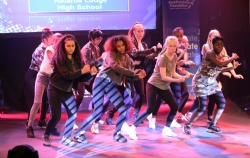 On Tuesday 17th October the Jack Petchey Award's ceremony for Merton took place at the Polka Theatre in Wimbledon. Almost 2,000 schools, colleges and youth organisations throughout London and Essex run the award scheme, which contributes millions of pounds each year to schools and youth organisations.
The scheme is run as a reward and recognition of the achievements of young people as well as the organisations receiving additional funding. "We do it because we want to help young people raise their aspirations, believe in themselves and make a contribution to their society" said Sir Jack Petchey CBE.
Ricards Lodge was delighted that students received their awards from the Mayor of Merton, Councillor Marsie Skeete. Students from Ricards Lodge also held the audience attention with a performance from the Ricards Dance Collective.
Alisha Hoyte a member of the RDC was thrilled to take part in the performance;
"I think I speak for everybody in Ricards Dance Collective when I say having the privilege to perform for the Jack Petchey Awards was a great experience. We all met up at the Polka Theatre, talked about the dance and went over it; we before practising on the stage for a final rehearsal. Afterwards, we waited to perform backstage. Everybody was really nervous, especially because we'd been working on this routine for weeks building up to this moment and we were performing to over 100 people we didn't know, including the mayor! I learnt, and think everybody learnt, that performing and having courage to do so is a big challenge. However, when we got out on stage, we had great fun and supported each other, which is one of the most important parts of being in a team. We all taught ourselves that no matter what happens, it's okay, just enjoy it and try your best. We were resilient and brave together throughout the experience, and, as a result, achieved a performance to make ourselves proud."
More photographs from the event can be found in our photo gallery.