Celebrations Evening 2017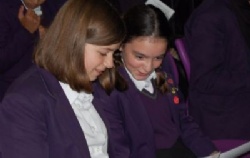 Ricards Lodge annual Celebrations Evening was held in a packed hall on Thursday 19th October. We were pleased to be giving out subject and special awards to almost 200 students.
Our special awards included a Governor's award which was presented by Louise Round our Chair of Governors to Natasha. The award recognised her fantastic GCSE results this summer and her amazing commitment to the wider life of the school including being the Head of the YTC (Youths that Care) at key stage 4 and her volunteering work in Peru. Our Headteacher's award went to Laila, again for amazing results and her contribution to the whole school community as a member of the Junior Leadership Team.
We were also delighted to have had two guest speakers; Crista Cullen and Nigel Wilson. Crista was part of the Great Britain squad which won Bronze at the 2012 Summer Olympics in London and she told us of her amazing journey. She came out of retirement in 2015 to join the Great Britain team for the 2016 Rio Olympics and played an instrumental part in a team that went unbeaten throughout the tournament, eventually winning an Olympic gold medal.
Nigel joined Legal & General as Group Chief Financial Officer in 2009 and took over as CEO in 2012. Legal and General won the 2014 Sunday Times Top 100 Companies award for Innovation in Staff Engagement. The company is known for its social conscience, charitable and outreach work.
All photographs from the event will be made available in the gallery.