Year 9 Visit to Wimbledon Mosque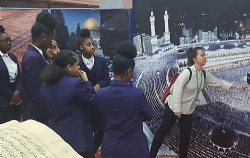 On the 9th October a group of Year 9 students were delighted to go on their first KS3 visit to a place of worship for this academic year. The students walked the short distance to Wimbledon Mosque on Durnsford road. The Mosque was holding an event called 'Exhibition Islam' which has been on display around the country.
The exhibition enabled students to learn more about Islam by viewing the large poster displays on the history and key aspects of the faith, along with artefacts, old Qur'ans, relics, clay model exhibits and Islamic calligraphy. Students also looked around this Islamic place of worship and were able to ask Muslims about their beliefs and daily life.
This trip provided pupils with essential knowledge for their course and an enjoyable experience. Students were very grateful for the hospitality of the Imam and community who provided refreshments and cakes. The students made donations which went to the Mosque's chosen charity, a local home for people with incurable diseases.