U12's off to a flying start in the Surrey Cup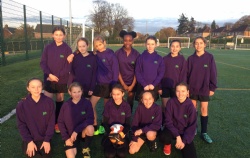 On Wednesday 8th November our Under 12 Football Team travelled to Weydon for their first Surrey Cup game. The girls started strongly with early goals coming from Ella, Poppy and Lulu.
One of the highlights of the first half was Tiffany's goal kick which deflected off Poppy to Ella, who then passed it through to Lulu, who calmly finished by placing it in the bottom right corner, a sublime piece of play!
Weydon had a few attacking opportunities in response, but with the continuous work rate from Lucinda in midfield, Eva, Louisa and Maya in the back line, it made Tiffany's job in goal easy. Nonetheless, when Laura and Zara came on, they fulfilled exactly the same role, well done girls!
Further goals came from Ella and Lulu, due to the workrate in the midfield and Lara, Poppy and Saffron opening the space up for the girls to run through.
Weydon stepped it up a gear in the second half however, Ricards showed resillience and with the team's hassling and work rate, it lead to another four goals by the final whistle. Miss Gillespie and Mr Mack were very impressed with the team's overall effort. Our girls were outstanding and dominated from start to finish.
The player of the match was awarded to Lulu for her outstanding attacking play from midfield.
Final Score: 9-0 to Ricards Lodge
Team: Ella, Lara, Maya, Saffron, Tiffany, Lucinda, Lulu, Eva, Louisa, Laura, Poppy and Zara
Next round: TBC
Miss Gillespie