Ricards Lodge Receives Outstanding Ofsted Report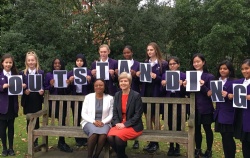 We are immensely proud to share with you that, as a result of our recent Ofsted Inspection which took place on 31st October and 7th and 8th November 2017, Ricards Lodge High School was judged to be an Outstanding school.
There are many highlights contained in the report which is attached below, and it will be on the Ofsted site in due course, but here are a few to give you a flavour:
Leaders and governors' have significantly improved the school since its last inspection. It is now Outstanding.
Outcomes are outstanding.
Pupils have highly positive attitudes to learning. They take their learning seriously.
Pupils set themselves high standards and take pride in their work.
Pupils develop into confident, mature, reflective and resilient young women.
Teachers know their pupils well…they have high expectations...they are enthusiastic about their subject.
The schools focus on developing pupils awareness of SMSC issues are exceptional.
The school's work to promote personal development and welfare is outstanding.
The school community has turned the school's vision of trust, equality, resilience and aspiration into a reality.
Leaders' fully prepare pupils and students in the sixth form for their role as women in the 21st century.
Headteacher Alison Jerrard:
I hope you join me in congratulating all the staff, Governors and students for this achievement.
Well done everybody.