It is Rocket Science!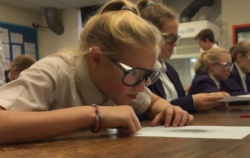 As part of the King's College Aspirations Project, a group of eager Year 8 students attended a series of exciting workshops at King's College School.
The students engaged in various activities, which were intended to inspire young people through the application of Science. The workshops took place weekly and included experiences such as: building rockets, learning about atoms, exploring light and reflection, and investigating acids, alkalis and chemical reactions.
These experiences were all really fun, but my favourite was definitely the rocket. We were able to create a chemical reaction to send them up in the air! That was one of the best experiences of my whole life."
Kasey, Year 8
More photo's available in the gallery.