Tracking reports available on Frog Parent Portal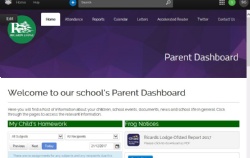 In addition to you receiving a paper copy of your daughter's school reports, we also publish all reports on the Frog Parent Portal, including termly tracking and full reports with comments.
All of your daughter's reports since she joined the school are available to view now. You will find a link to the "Reports" page in the menu bar of the Frog Parent Portal.
In addition direct contact details for Pastoral Leaders are also now available through Frog. Log in to Frog here or by clicking the Frog head icon at the top of the page.
If you are unable to log in to the Parent Portal on Frog or have forgotten your password please email frog@ricardslodge.merton.sch.uk