"The sun will come out...tomorrow"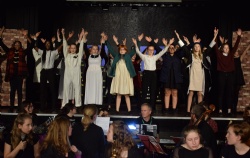 The curtains are shut, the costumes are washed and the lights have come down. Our wonderful production of Annie has drawn to a close.
It has been an incredible experience for both students and staff and the school spirit had us flying in to the last week of term with energy and excitement. The students put on a spectacular performance; from the lead performers to the ensemble, the incredible musicians and wonderful technical team. The sense of collaboration on this show was electrifying, the students made friends for life and hopefully it's a memory they will keep hold of forever, we know we will. We are all very proud of the work they have produced and are very humbled to have worked with such a wonderful, talented, dedicated group of students.
Thank you to everyone who came to see 'Annie' we are so thankful to have such a caring school community to support us all.
More photo can be found in the Photo Gallery