Ricards student wins prestigious British Education Award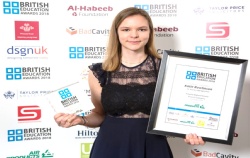 We are delighted to hear Katie has just has won a British Education Award.
The BEA identifies and celebrates individuals who have excelled within our British education system. In doing so, this award acknowledges that success comes down to personal endeavour and application. Educational attainment is not possible without the desire and commitment of each student to further themselves through knowledge and learning.
Katie was a finalist in the A Levels category for Zone 2 (which included East Midlands, East Anglia, London, South East & South West). The ceremony was a black tie event held at Manchester's Hilton Hotel on the 31st January. Both the Prime minister, Theresa May and Her majestey the Queen sent letters of support to all the nominees and finalists.
Katie, who graduated from RR6 last summer, is an extraordinary young woman who has a keen interest in the environment and nature. She has a very mature attitude towards her work and has always been diligent and hardworking. Katie has always had a clear view of what is morally right and just and will speak up and let her voice be heard.
Katie's interest in the environment both within the UK and internationally has offered her the opportunity to travel to both Tanzania and Peru to volunteer and work with the local community. In Tanzania she worked to create a watering hole in the Serengeti as well as building and constructing a number of community buildings these included a school room and a house for an elderly lady. In Peru Katie helped to build an irrigation channel which took some time and was a very gruelling activity. As well as helping to construct a community arts centre and a kinder garden; for the final project Katie decided she would go the extra mile and paint a mural on the wall of the kinder garden in her own time.
Katie is currently at Birmingham University studying geography. Whilst at Ricards she expressed interest in working as part of an NGO or environmental agency overseas and we have every confidence that Katie will fulfil this ambition.