Bollywood Dreams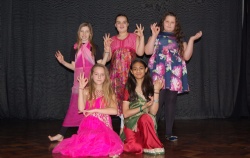 As part of the dance curriculum Year 7 have recently been studying Bollywood dance, choreography and costume.
Bollywood dancing is a beautiful blend of all Indian dance styles and some Western popular dance forms too. It requires many different hand gestures and is extremely fun to perform! We really enjoyed the dance as we learnt lots of new movements. Our favourite movement was doing the spin in our performance, as our Bollywood dresses went wild!

Hala & Kashifa Year 7
More photos are availble in the Gallery.