Ricards' U13 rugby squad wins Respect Award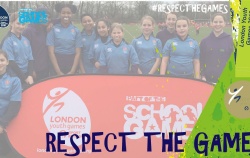 Congratulations to our U13 rugby squad who finished in an excellent 6th place at the London Youth Games on Friday. The girls scored 14 trys, the most scored by any team on the day.
They were also winners on the day, as they were also presented with the Respect Award for showing exemplary attitudes both during and after the games.
Congrats to the RTG WINNERS at the Girls Rugby U13 Competition, @RicardsTweets, Merton! "They were very respectful during and after. They were good sports and gave lovely words of encouragement. Excellent manners from students & their attitude was exceptional" - @LdnYouthGames