Ricards Dance Collective Win Respect Award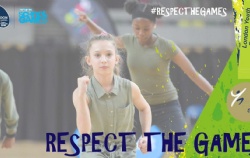 We are extremely proud in the recent achievements of the Ricards Dance Collective at the London Youth Games. They won an award for 'respect' and also finished in the top 10 in the senior dance category.
On Tuesday 13th March, the Ricards Dance Collective (RDC) elite squad attended the London Youth Games' dance competition. The event was held at the Copperbox Arena in Stratford, competing against 21 other schools.
"They danced in unison with lots of different dance styles. They were extremely energetic and showed a variety of skills and different cultures." @LdnYouthGames
This was RDC's first competition so we are very excited about what is to come for them all. The team won the 'Respect the Games' award for our category. The award was chosen by the audience, as it was the other schools' students and staff who were able to nominate.
The criteria for the award are shown below;
Fairness: consistently playing within the rules and the spirit of the game
Ambition: defining your own success and putting in the effort to be the best that you can be
Inclusion: positively embracing all the diversity that makes London great
Respect: respecting our communities by representing them with passion and pride, and respecting other participants, coaches, volunteers, organisers and spectators by never letting our behaviour lead them to having a bad experience
It was a great experience and we were very thankful to take part in the competition. I was lucky enough to participate in the event and thought it was great. In particular, I loved watching the other schools perform because you got to see what they had been working on for the past few weeks and what they were trying to convey in their choreography.

Kinza Year
Ricards Dance Collective:
Year 10: Aaliyah, Jaime
Year 9: Eva, Theresa, Melissa, Jessica, Fay, Mya, Briyana, Ruby, Kinza, Kellis
Year 8: Emelia, Ruby
Year 7: Alliana, Iris, Joelle, Lydia, Dejenay, Tiyohni