Easter Bake Off Winners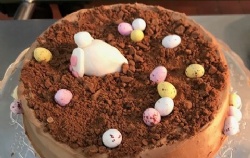 Our students have been busy baking Easter themed cakes and treats for the annual Ricards Lodge 'Easter Bake Off' Competition.
Congratulations to Maja, who's 'burrowing bunny' inspired cake came in first place. Second place went to Jessica's 'egg'cellent cupcakes. In third place were Olivia's assortment of delicious bunny and carrot biscuits. Well done to all students who entered. More photo's available in the Gallery.