RDC perform at RichDance 2018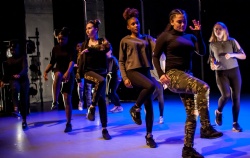 The Ricards Dance Collective (RDC) performed at The Hammond Theatre on Saturday 17th March after applying successfully to be a part of the programme.
The students performed among amateur and professional dance companies, showing great commitment, maturity and talent.
"We were all very excited to perform at RichDance. It was great to perform in a theatre and watch dancers from other groups perform as well. We all had a lot of fun and the experience helped to boost our confidence and motivate us to continue to work hard." Jamie (Year 10)
More photos are available in the gallery.