Success in William Morris Award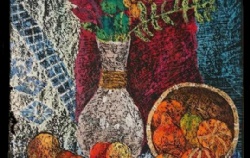 We are delighted to announce that Sophia, a highly talented student in Year 7, won second place in the William Morris Award (WMA) with her stunning wax resist still life painting.
Last week the art department and a number of participating students attended the prestigious WMA award ceremony at William Morris House. The panel of judges included:
Simon Betts, Dean of College, Wimbledon College of Arts
Felicity Gill, award winning artist
Tony Kane, Founder, Time and Leisure
Lorraine McGinnis, Former 6th Form College Head of Art
Steve Spence, Senior Lecturer, University of the Arts London
Ricards Lodge received a special commendation for the high quality of diverse work. Fifty seven students took part this year and the overall quality of work was outstanding. The art department will be creating an exhibition of the work in school in the coming weeks.
Participating in art competitions is a great way for students to gain confidence whilst exhibiting their talent and dedication. It also gives an opportunity for older students to build on their portfolios and make connections with top universities and employers within the art community.
The competition is run annually for students and teachers. If you are interested in taking part next year please see your art teacher or Tejui (Art Technician).