Ricards Lodge: recognised for excellence in science teaching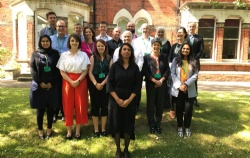 On the 14th June Ricards Lodge High School was awarded the prestigious Platinum Science Mark, in recognition of the excellent work undertaken by our science department.
Science Mark was created by STEM Learning to recognise and celebrate best practice in science departments across the UK.
"We are delighted to congratulate Ricards Lodge High School on receiving the Platinum Science Mark. Being awarded Science Mark is such a prestigious achievement because the assessment process is so rigorous, ensuring the programme is a true hallmark of quality science teaching. Each school and college who receives Science Mark has demonstrated a real and ongoing commitment to excellent science education in their school. Ricards Lodge High School is a great example of this."

Adam Little, Professional Development Leader at STEM Learning
Schools and colleges receive the Science Mark when they can show that they are delivering inspiring lessons for students and demonstrate their department's commitment to high-quality science education.
The day was a celebration of what I have always believed to be an outstanding Science department. The experiences of students beyond the "school day curriculum" were highlighted. During the visit, students reported positively on their provision, summing up their experiences in science as "interesting, extraordinary, exciting, sensational, intriguing and indispensable" (KS3 and KS4); "adventurous, creative, challenging, unique, testing and enlightening" (post-16). The report recognised the "extra mile" that staff go to support students with their learning and the time that is invested in them. Staff described the science department as a "meeting of minds" where sharing effective practice was a routine part of the working day.

Dr Kirby, Head of Science

Further information
STEM Learning operates the National STEM Learning Centre, and the networks of Science Learning Partnerships and STEM Ambassadors, alongside other projects supporting STEM education www.stem.org.uk
Science Mark is a quality standard, designed to recognise and celebrate inspirational practice in secondary science departments across the UK www.stem.org.uk/science-mark