Art Exhibition 2018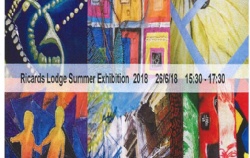 On Tuesday 26th June we had the great pleasure of putting on the 2018 summer exhibition of GCSE and A Level work.
The exhibition is a culmination of all of the work produced on the GCSE and A level course.
Art is a means of communication and the best thing to do is to show your work to a wider audience. In that way people can admire your skill but more importantly take something away that can have a lasting impact.

Mr Rainsford, Head of Art
Our students worked incredibly hard producing outcomes in a broad range of different media. We had on display some fantastic painting and drawing skills, some photographic experimentation, some giant sculpted creatures and some film and projections. Art enables you to express yourself in so many different ways.
Themes included Identity, Shamanism, African and Aboriginal art, as well as more conceptual ideas such as Fragments, and Freedom and Limitation. Our students responded so well to these starting points and created work that was rich, interesting, powerful and incredibly varied.
On the night of the exhibition students, teachers and parents joined us to celebrate the work . All the feedback we received was incredibly positive and It was very inspirational to see the students level of ambition at both GCSE and A Level.
Picture of the exhibition are available in the gallery.