Dancing our way to success and kindness…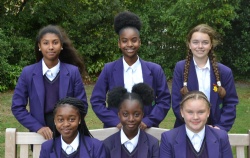 We were delighted to be invited to take part in the Capability Brown Festival Weekend on Sunday 9th September at Wimbledon Tennis Club.
Students excelled both at the festival and in helping a member of the public on the way home. It was interesting for our students to learn about the life and achievements of such an inspirational person whose work is available for them to visit locally; within Merton at Wimbledon Park, as well as further afield at Hampton Court and Kew Gardens.
Lancelot Brown was nicknamed "Capability" because he would tell his clients that their property had "capability" for improvement; this is the ethos that our students aspire to with their hard work, commitment and creativity through the performing arts.
The students from Year 7 to 13 performed a variety of choreographies such as ballet, tap, jazz, African and Bollywood which were developed as part of the dance curriculum as well as routines learnt through our extra-curricular dance groups such as Step into Dance and the Ricards Dance Collective. Our students performed brilliantly; Amelia Obertelli-Moriarty one of the organisers said; "the Ricards students are superbly talented dancers …absolutely superb - talented, committed, versatile and so professional - truly wonderful. Real gems!"
Amelia Obertelli-Moriarty , one of the organisers of the Festival said;
" It was a real pleasure to have so many students from Ricards Lodge taking part; the dance pieces were outstanding, it made me want to dance!"
It was no surprise then to find out that this week a group of these students on the way home after a dance rehearsal helped a member of the public.
John, a local resident said a lady;
"Had cut her head and probably needed a stitch but insisted she had to go to the bank first. We were joined by some adults and a little crowd of your pupils. The adults soon went but your pupils stayed and were concerned. One offered an elastoplast and they said they would accompany her to the bank. I don't know who these pupils were but I was impressed".
This is another example of our students who highlight our school values of trust, equality, resilience and aspiration every day!