Open Events 2018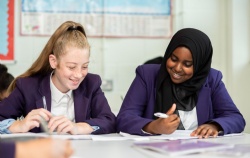 We would like to thank everyone who attended our Open Events over the past week. We welcome visitors to our school and are proud to share with you our ethos and how this works in everyday practice for students, parents and staff.
The events were a huge success and we were particularly impressed by the visiting students, who asked some excellent questions during their tours of the school.
If you were unable to attend please visit our open events information page for quick access to the pages and key information you may require.
A comment from the evening:
"The tour was excellent and every subject area that we visited was both interesting and informative for us and our daughter."
If you have any questions please contact the main school office at office.manager@ricardslodge.merton.sch.uk