Through a Student Lens - Margate 2019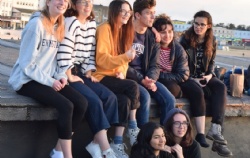 On the 18th of October, a group of talented young art and photography students from Year 12 and 13 journeyed away on a weekend to Margate.
RR6 Student, Marnie, writes below about our art & photography visit to Margate;
The drive was filled with a few light snores, the occasional rustle of a lonesome crisp packet and the low drone of Capital FM's UK top charts. Once we arrived, all the students and teachers heaved themselves from the vehicle and shuffled inside with achy necks and stiff knees to claim their rooms.
Later that night we all found ourselves enjoying the eerie calmness of the waves washing ever so gently against the shore, and the sun slipping gradually into the sea leaving warm orange tones rippling across the coldness of the grey sky. It was a prime opportunity for taking pictures and gain inspiration for artwork, and of course, create a Ghost documentary
A number of spooky interviews later from the Year 12's along with the year 13's clambering "elegantly" along the rock wall we travelled back to the Nayland Rock Hotel. We later ventured forth to admire Tracey Emin's neon "I never stopped loving you" which illuminated the seafront in commemoration of her many years in Margate, before proceeding to fill our faces with some delicious pizza.
When we returned once again and sheltered ourselves from the endless rain it was then time to settle in and ready ourselves for a cold yet peaceful night, after laughter dulled and the hushed whispers drew to a close, so did our first day In Margate.
In the morning we rose and ate a large amount of waffles, pancakes, tea and coffee before we left to travel to the Turner Contemporary, a place filled with expressive and awe-inspiring artwork ranging from documentaries, large scale sculptures and finally to a dark room exploring the art of different sounds and how they impact the mind.
Later in the day, we had free reign to grab lunch, where many decided to delve deeper into the town of Margate and its delicious food. When the day was drawing to a close yet again we travelled to a beach lined with beautiful white cliffs which some chose to attempt to climb with little to no success whilst others chose the sanctuary of solid ground and the waves lapping against their feet. When the sun was finally setting we stood by the lighthouse basking in the warm golden rays. Sadly not acquiring a last-minute tan before winter.
On the third and final day, the group travelled to a place known as the Shell Grotto, an underground tunnel lined with skill-fully placed shells decorating every wall and ceiling. It was daunting yet extraordinary and many decided to purchase interesting souvenirs from the shop.
When we returned we packed up our things and loaded them into the van before travelling to Dreamland. With having ridden a large number of the rides and consumed too much candy floss to number, it was time to go home. The journey was short and sweet despite some questionable navigation we had returned, alive and well from a weekend at Margate, packed with fun, excitement and good times.
More photos from Margate are available in the Photo Gallery.