Boldly Going Where No Student Has Gone Before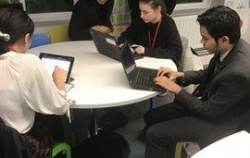 Over the past term, Year 12 A-Level Physics students have been working together on the ORBYTS project with Wimbledon High School.
Twinkle is an exciting new British space mission to produce a satellite able to measure exoplanet atmosphere compositions.
The students have been working in collaboration with students from WHS, In the photo and the screenshot, courtesy of Alex F, you can see analysis of the data from a solar storm.
Dr Scragg