Year 12 Interfaith Dialogue Project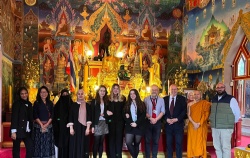 The sixth and last inter-faith dialogue session of "Our Faith, Our Belief" Year 12 Interfaith Dialogue Project took place at the Buddhapadipa Temple at Wimbledon.
We were warmly welcomed by Ms Kamontip Evans who joined the dialogue and very kindly offered Year 12 students a guided tour to the Buddhapadipa Temple.
Sixth form students discussed their journey of life and evaluated the impact of interfaith dialogue and the effectiveness of interfaith dialogue initiatives.
At the end of the session students were awarded certificates for successfully completing the project.