Year 12 Charity donations flood in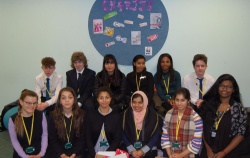 Year 12 Tutor Groups are undertaking a range of charity initiatives this academic year. One Tutor Group has chosen to donate items to the Kings Rugby Development Academy in Nairobi, Kenya.
12B have managed to fill three storage boxes with donations of much needed items such as clothes, toiletries and torches.
I am so proud of them as they are all very proactive, giving and socially conscious. Next week we will be launching our next project for Wimbledon Food Bank and some of the students are looking at volunteering!
Miss Barron
Students have individually wrapped and labelled each item and also made a Christmas card to go with the boxes.
We would like to wish the community in Nairobi a happy and peaceful Christmas
Thula - Year 12
What is the Kings Rugby Development Academy?
James McGreevy, was a former Rutlish student. In 2014, James and his family relocated to Nairobi, Kenya, in order to engage with destitute girls and boys living in a Kibera Slum. Since moving, James has founded a Rugby Development Academy for boy and girls from the slum, an initiative to give them a chance to escape their harsh realities. The Rugby Academy, the KRDA, currently has 250 boys and girls. James is hoping to expand it so that they can impact many more lives.
James sent a video message describing the charity and RR6 decided to get involved by organising Christmas Boxes for KRDA. These included everyday items needed by the boys and girls such as toothbrushes, soap, shampoo, sportswear, socks, torches and waterproof coats. As well as these essentials the students added Christmas Chocolates, sweets and personalised Christmas Cards.
A huge thank you to all students and tutors for your contributions for the Kings Rugby Development Academy (KRDA)