Year 12 Geography Residential Field Trip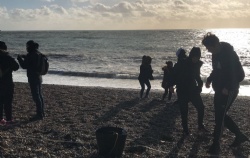 From Friday 19th to Monday 22nd January, a group of Year 12 geography students attended a residential field trip in preparation for the NEA (Non-examined assessment) part of the A-Level geography course.
We were based at Juniper Hall, Dorking and carried out a variety of fieldwork both at the coast and in an urban area. Despite the cold and wet weather at the weekend, students were in good spirits as they practised the different fieldwork techniques and then began to devise their own investigations, which will then become their completed NEA back in school. Well done to all involved!