RR6 Results & Destinations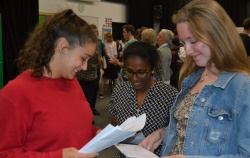 We are extremely proud of our recent exam results. Around 85% of our 2018 RR6 leavers are continuing their studies at university.
A high percentage of students were awarded places at Sutton Trust and Russell Group universities as well as one student successfully gaining a place at the University of Oxford and one student to study Medicine at Anglia Ruskin University. Alternative Post 18 destinations include an Art Foundation course, an apprenticeship at the Royal Opera House and further applications for apprenticeships or employment and a gap year to gain experience.
The range of courses our students are going on to study at university is extremely diverse: from History and Politics at Oxford to Aerospace Engineering at Bath; from Sports Technology at Loughborough to Law at Surrey; from Medicine at Anglia Ruskin to Criminology at Brighton; from Dance Studies at Middlesex to Film at Bournemouth; from Archaeology & Ancient Civilisation at Durham to Air Transport with Helicopter Pilot Training at Buckinghamshire; from Midwifery at Bedfordshire to Architecture at Manchester.