School uniform
We place a great deal of emphasis on the appearance of our students. We expect them to be smart, well presented and to wear full school uniform at all times, including their journey to and from school.
All items are available from School Uniform Direct.
If you have any queries about uniform, please contact the school before purchasing items to avoid wasting money.
Second Hand School Uniform Swap
We are delighted to announce that our school uniform supplier School Uniform Direct has now introduced a second hand school uniform swap service. Please click below for more details.
---
The following items of uniform are compulsory with our school logo. They can only be purchased from School Uniform Direct, Unit 5 Mitcham Industrial Estate;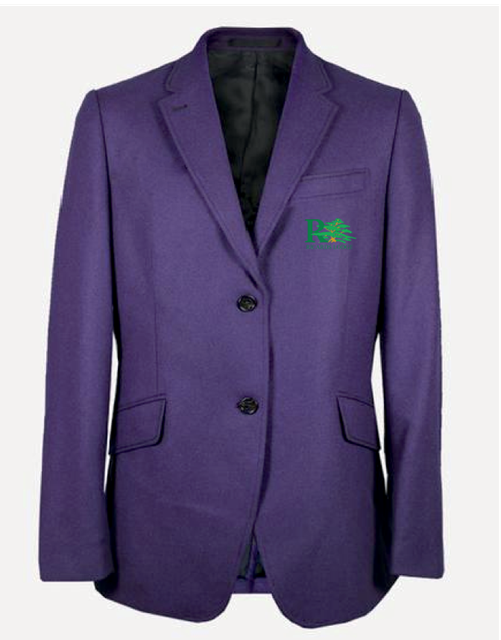 Purple Blazer
Purple jumper or tank top
P.E. Polo shirt purple/green
Black P.E. shorts or skort
These can be purchased from School Uniform Direct or from any other retailer of your choice;
Knee-length plain black skirt or smart tailored black trousers (not jean style/or leggings)
Tailored black knee lenght shorts
Plain white blouse with collar (polo shirts are not allowed)
Plain black tights or white or black socks
Flat black shoes (please see footwear guide below)
Black or white headscarf if worn for religious reasons or to protect textured hair
Plain black stretch full-length dance pants (leggings or joggers). No cycling shorts.
Plain black short or long sleeve T-Shirt (for dance lessons)
The following items of uniform are optional. These items can only be purchased from School Uniform Direct with our school logo
Purple hooded top
Arm Sleeves
P.E. Kit Bag
Valuables pouch
Outdoor Coat
Plain black, green or purple outdoor coat (one colour, no pattern, logo or writing). No denim, leather, imitation leather, fur coats, fleeces, hooded sweatshirts or body warmers.
Recommended for PE Lessons
Shin pads
Sports Bra
Plain black tracksuit bottoms for PE
Acceptable Footwear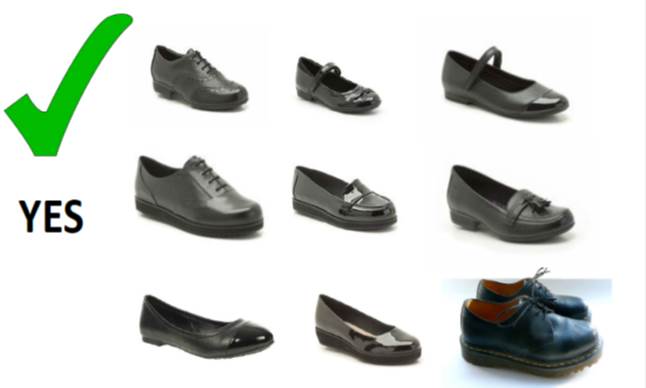 Some examples of shoes that are not school uniform are shown below.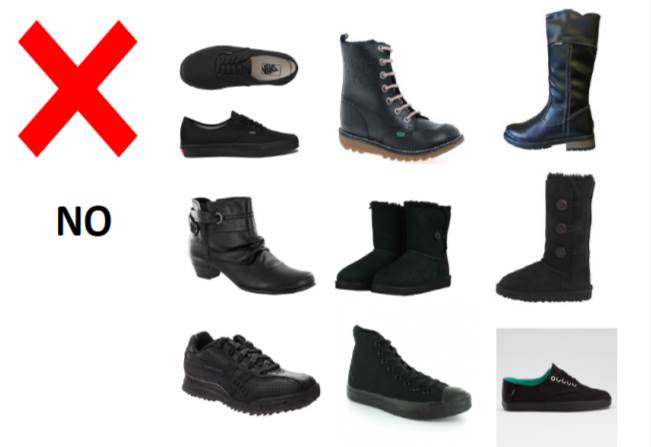 No boots of any kind are permitted. Trainers/shoes with logos are not permitted. No canvas shoes such as pumps, plimsolls, Vans etc. If in doubt, ask your Head of Year before purchasing shoes
Jewellery
One pair of stud earrings and a plain wristwatch are the only form of jewellery allowed.
No other piercing is allowed.
Hairstyles
You must not bleach, dye or add any colour to your hair. You may wear a hair clip, a plain hairband or hair tie in our school colours.
If unsure, please speak to your Head of Year before visiting the hairdresser.
Valuables
Mobile phones may be brought into school to use outside at break and lunchtimes only.
We will not take responsibility for the loss or theft of any of these items.
Essential Stationery (can be purchased from any retailer)
Pen – black ink, pencils (including HB and 2B pencils)
30cm ruler, protractor and compass
Pencil sharpener and rubber
Coloured pencils
Glue stick and scissors are optional but useful items
A small pocket dictionary
A calculator (scientific calculator recommended)
A reading book: all students must carry a reading book with them at all times.
Other
No fake nails
Subtle make up only